Disclosure: Some of the links below are affiliate links, meaning at no additional cost to you, Ammoland will earn a commission if you click through and make a purchase.
U.S.A. –-(Ammoland.com)- While Nikon Sport Optics has been in the scope game for many years, but it seems like they've really turned up the heat recently.  With product revisions and upgrades across the board, Nikon has really rounded out their line-up.  I've got a few long-range articles coming up, as well as precision rifle testing.  I found myself needing a beefy optic to see out to extended distances, so I reached out to Nikon to see what was new.  They shipped out a Black FX1000 6-24×50 with a quickness, so here are my quick hits after my first range days with it.
Magnification: 6-24x
Objective diameter: 50mm
Tube diameter: 30mm
Weight 24.5 oz
Length 15.2″
Waterproof/fogproof/shockproof: Yes
First focal plane
Illuminated reticle: Yes, 10 brightness settings
Reticle: FX-MRAD milliradian based
Clicks: 1/10 MRAD
Multi-coated glass
Lifetime warranty
Built-in zero stop
17 MRAD internal adjustment, both vertical and horizontal
Nikon also sent a BLACK Cantilever 30mm scope mount.  Quickly assembled with a dot of blue Loctite on the screws and the scope itself leveled out, this optic package was ready to jump onto it's first host, a CMMG Endeavour 300 series rifle in 6.5 Creedmoor.
First impressions:  The Finish is a nice, flat matte.  The turrets have ample, not excessive resistance and click very nicely.  It's not hard to make adjustments based on feel and sound, rather than needing to pull your eyes out of the viewbox and check visually.  The glass is fantastically clear.  Colors are vivid and outlines are crisp.  I'll get some near-twilight work done to see how it handles low-light.  The magnification adjustment is fairly easy, maybe a little on the stiff side.  That's pretty normal in my experience with new optics, and usually eases up quickly.
The reticle is a beauty.  I like MRAD based reticles for their ease in calculating adjustments, as well as rangefinding.  Nikon's 6-24×50 with FX-MRAD strikes a nice balance regarding reticle thickness, which isn't always easy when using a Front Focal Place (FFP) scope where the reticle increases or decreases in size as you increase or decrease magnification.  Too thick and the bars are excessively occluding at high magnification.  Too thin and you can barely make out the reticle when at low magnification.  This is especially important when your optic has such a wide high-to-low variance in magnification power.  The illumination helps at low magnification, in case your eyes aren't as sharp as they used to be.
Regarding range time, I'm going to say that a pair of range trips isn't enough for an extremely thorough shakedown.  Given that this optic will be used again and again in the coming year, I wanted to get a quick primer out so we have a base to refer back to.
After getting a quick zero, I banged out a few groups at 50 and 100 yards.  The optic felt naturally paired with the CMMG Endeavor 300 in 6.5 Creedmoor.  Ringing steel at 200 was a cakewalk, with both the optic and the rifle just starting to warm up at that range.  My informal groups at 200 were tighter (relative to range, IE measured in mils or MOA) than the groups at closer ranges.  To me, that's a clear sign I'm shooting with excess magnification when close, which commonly leads to overcorrecting the minute movements inherent in a shooting position with human influence.  I did a quick tracking test, shooting a round before cranking the turrets and adjusting the reticle up and down, left and right as far as they'd go.  When I set them back to zero and shot another round  (and another after similar adjustments), the groups were still tight.
It's clear I need to bump up my long range precision game if I'm going to have a chance at hitting the end limitations of either the rifle or the Nikon scope.  I'm excited to keep working this optic to find out if the sweet first impressions lasts through some more use and abuse as I work out to 900 yards and get some elk hunting done.  For now, I'm a happy shooter.  The Nikon 6-24x50SF sells for $799.95 from Nikon's website, which the BLACK Cantilever mount runs $144.95.  Brownells has the Nikon Black FX1000 6-24×50 w/ XMRAD reticle going for $649.95! Check em out!
---
About Rex Nanorum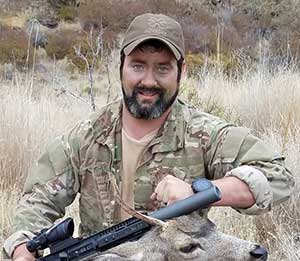 Rex Nanorum is an Alaskan Expatriate living in Oregon with his wife and kids. Growing up on commercial fishing vessels, he found his next adventure with the 2nd Bn, 75th Ranger Regt. After 5 tours to Afghanistan and Iraq, he adventured about the west coast becoming a commercial fisheries and salvage SCUBA diver, rated helicopter pilot instructor (CFII) and personal trainer, before becoming a gear reviewer and writer."