U.S.A. –-(Ammoland.com)- If you're into premium AR's, you've likely heard of V Seven Weapon Systems (V7).  Started by Joel Allen, V7 was birthed after the death of John Noveske: Joel, Noveske's lead shop tech, left to forge his own path.  Focused on using exotic materials such as magnesium, titanium and lithium-aluminum alloys, V7 machines these in parts with exacting tolerances.  After launching Dark Hour Defense to offer up more budget-minded parts (and some more unique items), Joel and his family have fired up the engines on a project long in the works: Ladies V Seven (LV7).
We've seen "ladies" rifles before which sport nothing more than pink furniture to differentiate themselves.  The whole lineup of LV7 rifles were designed for, and by, the ladies who work at V7.  The weight is down, the contours smooth.  LV7 pulls no punches when it comes to quality parts, using many of the titanium, lithium-aluminum and magnesium options found on their other offerings.  With 4 rifles offered on their website, V7 sent off the Nightingale for myself and my wife to co-review.  The rifle will be set up as a hunting AR, minus the 5-round magazine for testing, though it will likely have to be sent back to LV7 before hunting season starts.
Here's the Nightingale's tech specs:
Cerakote KelTec Navy Blue (H-127) with Black Type III Hardcoat Anodizing
Lightweight charging handle
7075 upper receiver
Ultra-light port door Air model
Ultra-light port door rod enlarged end
Titanium BCG in DLC black (Titanium carrier w/staked mil-spec key, 9310 bolt w/nickel boron finish, mil-spec firing pin & retaining pin)
Hyper-light magnesium 15″ M-lok handguard w/ 7068 aluminum barrel nut
16″ 300 blakout stainless fluted barrel coated KG black (Melonite stainless gas tube & 17-4 stainless gas block in KG black)
Melonite steel thread protector in 5/8×24
7075 lower receiver
Ultra-light aluminum takedown/pivot pins
Ultra-light mag catch/release
Hybrid 57 degree right hand selector
7075 Carbine buffer tube
Teflon coated carbine action spring
Ultra-light quick detach endplate
Ultra-light castle nut
Enhanced Teflon coated H1 buffer
Titanium grip screw and buffer retainer
Titanium Geissele trigger/hammer pins in DLC black
Geissele G2S trigger
Magpul MOE K Grip in black
Magpul MOE SL-K stock assembly in black
Rifle weighs: 5 lbs. 4 oz
Overall length: 31 inches
The Nightingale differs from the Hummingbird and the Swan in color (robins egg and shimmer aluminum, respectively) and caliber (5.56mm for both).  It also differs from the Valkyrie Quail in color (desert verde), barrel length (18″) and caliber (.224 Valkyrie).  One final difference is the Nightingale's lack of muzzle device, given that a disproportionately high percentage of .300 Blackout users will be needing a suppressor mount which is nearly always specific to their can.
To get this gun ready for range day, I needed to add a couple things.  For an optic I mounted Nikon's M-Tactical 3-12x42SF Mk1-MRAD scope (hereafter, M-Tac).  Nikon has really impressed me over the last few years, and their line-up just keeps getting better.  The M-Tac has really clear glass and was more than suitable for the task of reviewing this rifle while shooting out to 200 yards.  I also attached an AAC suppressor mount, so my wife could use her 762SDN-6 suppressor.
We had four brands of ammunition on hand, two supersonic loads and two subsonics.  Barnes 110 gr Tac-TX black tips and 120 gr Federal Power Shok rounds were the proverbial hares, while Remington UMC 220 gr OT-FB  and American Eagle Suppressor 220 gr OTM were the tortoises.
Chronograph data:
Barnes 110 gr – Avg: 2367 FPS
Federal 120 gr – Avg: 2165 FPS
Remington 220 gr – Avg: 1025 FPS
American Eagle 220 gr – Avg: 1006 FPS
While there are some factory loads available in .300 blackout that have a reputation for excellent accuracy, the two supersonic rounds tested have more of a reputation for accuracy in the decent-to-good range.  Their real claim to fame is excellent-in-class terminal performance.  This Federal round left a 1″ crater in the backside of a mule deer's heart last year, at 190 yards from a 6.5″ (V7) barrel.
The two subsonic rounds are both budget-minded, quiet plinkers, known for their economy over performance.  With that in mind, let's look at some of the groups we pulled out.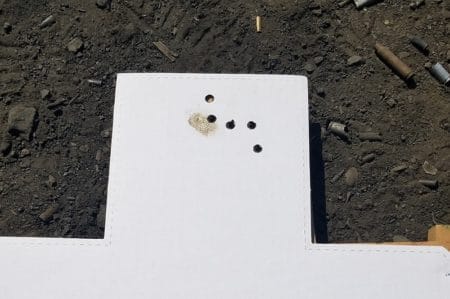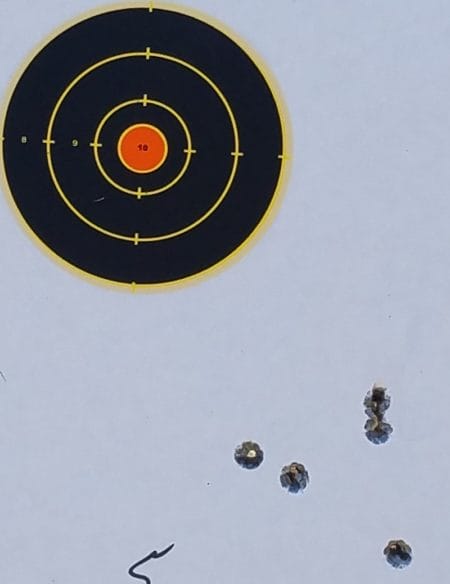 After a little grouping, we started working the steel plates and practicing target transitions.  Given that this is a ladies rifle and since I enlisted the assistance of my wife, I'll take this chance to pass the mic so she can share her impressions.
"The Nightingale was impressive. Light, sleek and comfortable. With subsonic ammo, it was incredibly easy to shoot without much of any kick to it. My only complaint is it was a bit too long for me, having been spoiled I think with SBRs. A forward vertical grip would ease the length. I'd be more than happy to take this for my first hunt, feeling amply comfortable with the caliber, along with the weight and precision. I appreciate the simplicity of it as well, petite and powerful." -Regina Nanorum
As for what I think about the rifle: it is smooth.  From the teflon coating on the recoil spring and buffer to the lightened titanium BCG, everything about this gun is set up to run smoothly, quietly and with little recoil.  This is a very soft shooting gun when compared to other AR's with similar set-ups in the same caliber.  The scant weight (barely over 5 lbs) makes this rifle handle very well.  Transitioning from one target to another is very natural, with none of the tendency to swing past the target that comes with heftier rifles.  While I would have liked to see some better groups come out, I don't doubt the rifle's ability, rather blaming my own rust and the use of hunting and plinking ammo rather than match target ammo for an accuracy test.  Even so, the Federal 120 gr round would still be dropping rounds into a deer heart past 300 yards, much farther than most would take game with this cartridge.
As with every product from the V Seven, LV Seven and Dark Hour Defense triumvirate from the Allen family of businesses, quality isn't at question when considering whether or not to buy.  The machining is precise, clean and clever.  Fit and function are undoubtedly flawless.  As usual, that level of detail has an effect on the end price.  You don't get to use titanium and magnesium parts, DLC and boron coatings and a Geissele trigger and come in at budget-build cost.  The Nightingale runs $2179, with LV7 line-up spanning from there up to $2559.
---
About Rex Nanorum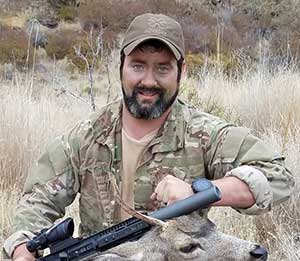 Rex Nanorum is an Alaskan Expatriate living in Oregon with his wife and kids. Growing up on commercial fishing vessels, he found his next adventure with the 2nd Bn, 75th Ranger Regt. After 5 tours to Afghanistan and Iraq, he adventured about the west coast becoming a commercial fisheries and salvage SCUBA diver, rated helicopter pilot instructor (CFII) and personal trainer, before becoming a gear reviewer and writer."