U.S.A. –-(Ammoland.com)- While Democrat Gov. Ralph Northam and fellow anti-gunners in Virginia are getting lots of mileage out of the tragic mass shooting in Virginia Beach, the gun control crowd is mute in the wake of a self-defense shooting in Cincinnati early Thursday in which an armed mother of five used her legally-owned handgun to shoot an ex-boyfriend who was attempting to break into her home.
According to WLWT and WTAE, a prosecutor's spokesperson "said the woman would not face any charges."
Published reports say the unidentified mom had a protection order and a license to carry, but it was a remark from Prosecutor Joe Deters in a news release that almost certainly caused a case of massive lockjaw in the gun control community.
"Thank goodness she had a Concealed Carry Permit and was able to defend herself and her five children," Deters said. "It is hard to imagine what might have happened to her or her children if she had not been able to protect herself and her family."
It's a pattern as predictable as winter snow in northern Maine. The gun prohibition lobby, which is fond of justifying every new extremist proposal by arguing, "If it saves just one life, it will be worthwhile," typically becomes tongue-tied when an armed private citizen uses a firearm to protect their life, and possibly the lives of others, especially their children.
The only exception to the rule is if they can be sufficiently condescending in an effort to dissuade other citizens from fighting back under similar circumstances.
The loss-of-voice malady has hit billionaire-backed gun prohibitionists in Washington State several times in recent memory. When a man identified as Tim Day staged a string of carjackings almost one year ago in southwest Washington and was eventually shot dead by an armed citizen in a Walmart parking lot near the State Capitol in Olympia, that citizen was hailed as a hero by nearly everyone but the Seattle-based gun control crowd.
Day had shot one man whose car he was attempting to steal, and that's when David George, a pastor and volunteer firefighter and medic stepped in. George, the pastor at an Assembly of God church in Oakville, has a concealed pistol license. He told a reporter, "I carry a firearm for the same reason that I carry a first aid bag, hoping never to have to use them, but always being prepared nonetheless."
Three years ago near the Seattle suburb of Burien, another armed citizen fatally shot an ax-wielding attacker at a 7-11 convenience store where he stops daily for coffee. AmmoLand recently chatted with that armed citizen, who still wishes to remain anonymous. He said he is able to sleep fine and he continues living a normal life.
That life nearly ended when Steven Blacktongue tried first to decapitate him with a large hatchet, and then struck the store clerk. The armed citizen, who had a pair of Smith & Wesson .357 Magnums—one in each pocket of his jacket—drew one of the guns and fired three times at point-blank range. The incident unfolded in 12 seconds on a store security video.
Again, Seattle anti-gunners were thrust into silence when then-King County Sheriff's Sgt. Cindi West told reporters, "Fortunately, because of this customer with his weapon, this could have been a lot worse. The clerk could be the one laying there dead on the floor right now."
Last September in the Chicago suburb of Cicero, an armed citizen intervened when an attempted traffic stop turned into something more dangerous. The driver opened fire and wounded Officer Luis Duarte, and that's when the legally-armed citizen opened fire with his own gun.
The Chicago Tribune reported at the time that Cicero Police Supt. Jerry Chlada, Jr. acknowledged, "We were lucky enough to have a citizen on the street there who is a conceal carry holder, and he engaged in gunfire with the suspect."
Cicero Town President Larry Dominick told reporters, "I want to applaud the citizen, a civilian, who risked his life to help in apprehending this armed suspect."
In this case, a local gun control advocate did speak out. Colleen Daley, executive director of the Illinois Council Against Handgun Violence, was quoted by the Tribune.
"This situation worked out OK, but what if it hadn't?" she reportedly said. "It easily could have gone the other way. To sit here and say that concealed carry is the answer to all of our gun violence problems, or more, that armed people are going to keep us safer, that's not true."
That might be a debate she should have with patrons of an Oklahoma City restaurant where a man identified as Alexander Tilghman, 28, opened fire from outside the building in May 2018. But it was his bad luck that not one but two armed citizens who did not know one another grabbed their guns and shot Tilghman fatally. The would-be killer did wound three people inside Louie's Grill & Bar before his rampage ended abruptly.
Armed citizens Carlos Nazario and Bryan Wittle were there to intervene, and an Oklahoma police captain was quoted by CNN observing, "These guys were protecting somebody else's life. You can say they are heroes."
Except, you can't say that if you're a gun prohibitionist. At least, they haven't so far.
Workman is co-author of "America Fights Back – Armed Self-Defense In A Violent Age" with Alan Gottlieb, chairman of the Citizens Committee for the Right to Keep and Bear Arms.
---
About Dave Workman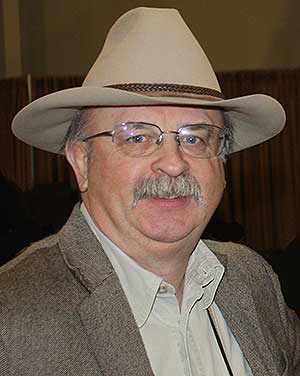 Dave Workman is a senior editor at TheGunMag.com and Liberty Park Press, author of multiple books on the Right to Keep & Bear Arms and formerly an NRA-certified firearms instructor.